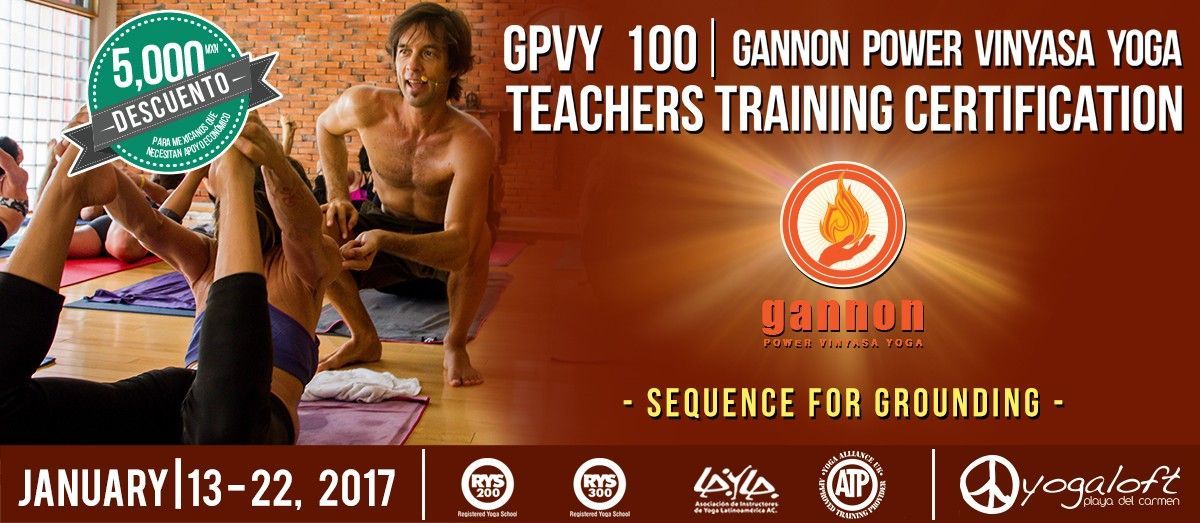 ​Gannon Power Vinyasa Yoga Teacher Trainings: GPVY 100 2017 - Grounding Sequence
After 15-years of practicing Classical Ashtanga Vinyasa Yoga, as blessed by his late Guru, Sri. K. Pattabhi Jois, Gannon experienced the natural process of where tradition often leads other long-term yoga teachers. And that is evolution and freedom. The freedom to adapt what our own experience on the mat has lead us to discover and create for ourselves.
Challenge yourself to a powerful, vinyasa based practice that is not for the narrow minded and not for the weak. Always with the stimulating, rocking playlist that has becomes Gannon's driver of a high-energy practice. And, now you can learn to teach this same practice!
It is this same practice style that Michael Gannon has been teaching regularly at Yogaloft Playa del Carmen, since the yoga school opened in 2013.
These GPVY Teacher Trainings are new Gannon developed teacher training that are pre-registered with Yoga Alliance worldwide, LAIYLA Mexico and Yoga Alliance UK.
Upcoming date for GPVY 100 Teacher Trainings Grounding Sequence is:
January 13-22, 2017
Location

Yogaloft
Playa del Carmen
Calle 10 Playa del Carmen, Mexico
Training Tuition:
GPVY 100 - Grounding Sequence US$ 1500
SAVE US$ 100!
Pay your discounted tuition (US$1,400 each) in a single payment by 2-months before Grounding Sequence training start date (Plus any payment fees incurred with Paypal or bank transfers
)
NOTE: You do not need to take both trainings.
BOOK NOW your GPVY 100 Certification Teacher Training!