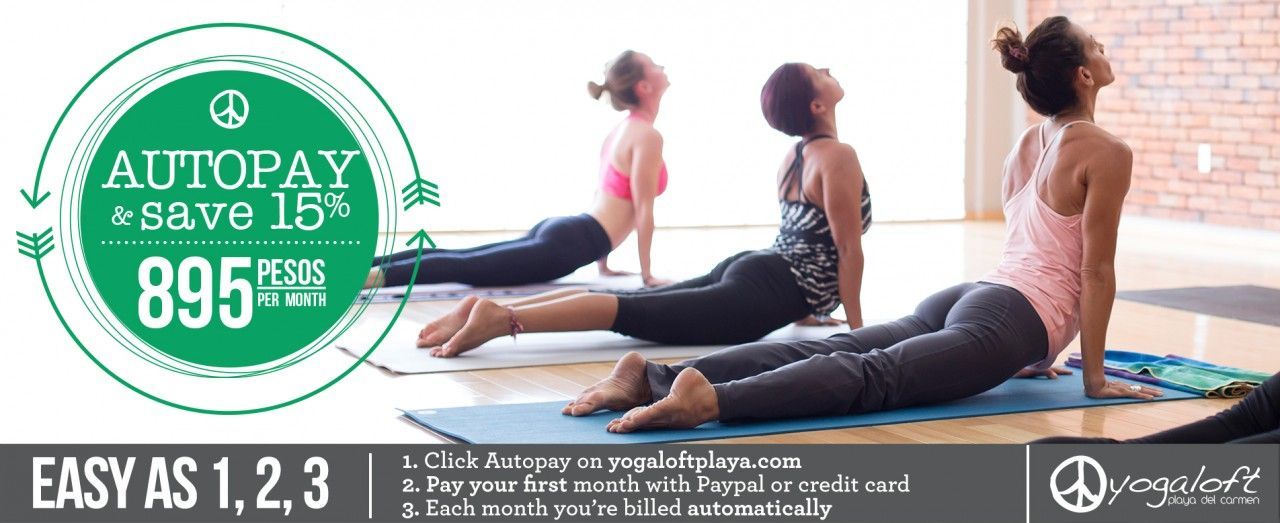 Keeping your practice consistent at Yogloft just got easier!
Yogaloft Autopay allows you to save 15% every month on your daily classes membership. Thats only 895 MXN for the popular Daily Classes Plan that normally costs 1030 MXN. And you don't have to worry about when one month of practice ends and your next month begins! We will keep your membership active with automatic billing through your Paypal account or Credit Card. So you can focus on your breath. And just maybe, with all the money you will be saving each month, make a move on that new yoga mat you have had your eye on in the Yogaloft Boutique ;)


Click here now to set up your Autopay at 15% off !
Note: Autopay is designed so you can keep your Plan active all year around. After three months live, there is no cancelation fee, if you decide to change to another plan.
Mantener su práctica constante en Yogaloft es más fácil!
Yogaloft Autopay le permite ahorrar un 15% sobre la membrecia de una clase dia. Eso es solamente 895 MXN para nuestro plan mas popular de una clase diaria los 30 dias del mes, que normalmente cuesta 1030 MXN. Y usted no tiene que preocuparse cuando despues de un mes práctica termina y comienza el próximo mes! Vamos a mantener su membresía activa con la facturación automática a través de su cuenta Paypal o tarjeta de crédito. Para que pueda concentrarse en su respiración. Y tal vez, con todo el dinero que se ahorra cada mes, pensar en comprar el nuevo yoga mat que vieron en Yogaloft Boutique;)

Haga clic aqui ahora para configurar su Autopay al 15%de descuento !
Nota: el pago automático está diseñado para que pueda mantener su plan activo durante todo el año. Después de tres meses de activacion, no hay cuota de cancelación, si decide cambiar a otro plan.